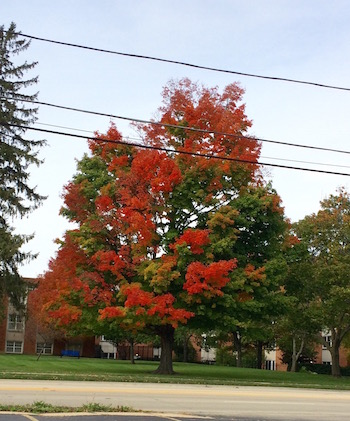 Fall is in full swing here in the Midwest. We're being treated to a continually changing display of bright red, orange, and gold foliage. Do you know what causes leaves to turn from green to these brilliant colors? The answer is fascinating. Throughout the tree's growing season, every leaf contains yellow, orange, and sometimes red pigments, as well as the green ones called chlorophyll. Chlorophyll gives leaves their deep green color in the summertime and plays a very important role in photosynthesis, the food-making process that feeds the tree.
This summer, I tried to visualize all those autumn colors already being in the dark green leaves of the trees outside my window; but though I knew the colors were there, they were hard to picture because I couldn't see them. The green chlorophyll completely blocked all the other colors.
Then shorter days and cooler temperatures signaled the leaves to stop making food. They began losing that intense green and took on a translucent appearance. Because the trees won't need food during their winter dormancy, as the chlorophyll broke down, it was not replenished. As more of the green pigment disappeared, all the other colors became visible.
Of course there's a life lesson here. My high school students often accused me of finding a lesson in everything, but this one is pretty obvious. Those colorful pigments were there all the time, but we couldn't see them. Likewise, whatever situations we may be facing right now, underneath the circumstances there is unseen goodness and beauty waiting to be revealed. In Hebrews 6:12 we are told that through faith and patience we inherit the promises. What promises? For one, that God is behind the scenes working all things together for our good (Romans 8:28). We need faith to believe this, and patience to let Him work it out.
I have a situation right now that, while not earth-shattering, has required me to exercise faith and patience. The flooring that was to be installed in my condo on October 17 was discovered to be faulty – after the workers had removed the carpeting from the dining room and half the living room! It turns out that an entire factory run of material has the same problem and has had to be recalled. The manufacturers think there is something wrong with their machinery.
Since I'm leaving for my winter quarters in Arizona two weeks from today, I'll have to wait till I come home for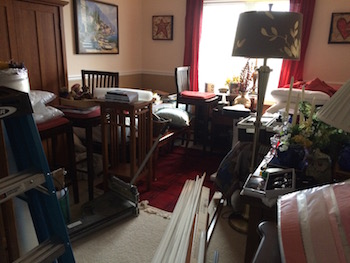 Christmas to have the new flooring installed. This is not a big thing in the overall scheme of life, but the cement-slab floor décor and spare bedroom piled with books, furniture, and installers' materials and equipment were not what I had envisioned for my last two weeks at home. I had pictured the new floor in place and all the furniture and other items back where they belonged. Does this look like a guest room where you would like to stay?
Just like the beautiful autumn colors that were hidden by chlorophyll in the leaves outside my windows, there is gold hidden in this situation, waiting to be revealed in its season. Good will ultimately come out of this, because that's how God is. I'll let you know when I discover it!
I can't help but keep thinking of Psalm 138:8 which says, "The Lord will perfect all that concerns me." Because the floor in my condo concerns me, through faith and patience I will inherit that promise, too. Not just finished, put perfected!
Judy A. Knox — "Discovering God's Goodness in Everyday Life"