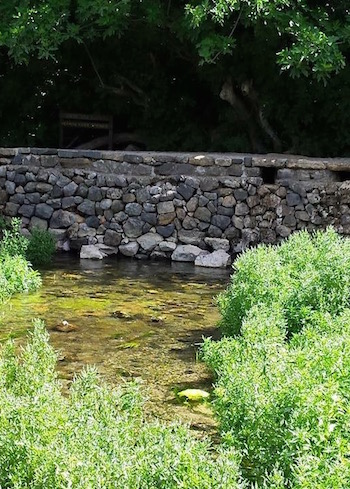 This is Banias in northern Israel. Another name for it is Caesarea Philippi, and it was one of the most thought-provoking sites we visited. The natural spring here is the primary source of water for the Jordan River. However, that is not its only significance. It was here that Jesus asked His disciples, "Who do men say that I, the Son of Man, am?" The story is found in Matthew 16:13-20.
During Jesus' time there were many pagan temples here. The painting below shows how it would have looked during that time. Now all that remains is a rock wall and the floors of the temples.
No wonder Jesus chose this place to ask that question. The disciples would have seen all of the people going in and out of the temples to worship their gods and idols. There they stood between springs of living water and the worship of dead idols –between representations of life and death. There, after they told Him what other people said, He asked them the most important question of His entire ministry. "But who do you say that I am?"
This is still the most important question we must answer today: who do we say that He is? When Peter blurted out the answer. "You are the Christ, the Son of the living God,"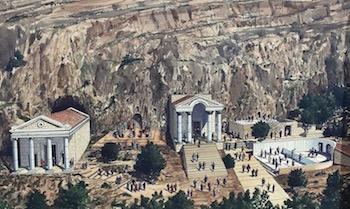 Jesus told him that God had revealed that truth to him. And it is God who reveals the same truth to us more than 2,000 years later.
When we realize who He is, we have no problem placing our trust in Him. Peter and the other disciples had only the Old Testament Scriptures, pointing forward to the coming of Messiah. How amazing it must have been to suddenly realize that they were seeing those Scriptures fulfilled right in their midst.
Today, in addition to the Old Testament, we have the four Gospels and the rest of the New Testament to reveal Jesus' identity to us. As Paul says in Romans 1:20, we are without excuse if we do not recognize this truth, that He is the Christ, the Son of the living God.