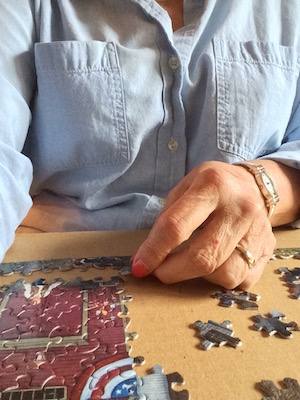 When my husband was in the hospital following heart surgery, I noticed almost all the families in the ICU working on jigsaw puzzles. Great idea, I thought, and got one for myself that fit on a board I could hold on my lap. I could pick it up to work on any time, yet put it down at a moment's notice if I was called away.
Although our puzzles gave us something to do while waiting for whatever came next, I think the real appeal was their symbolic contrast to what we were going through emotionally. Watching over our loved ones, hoping and praying for recovery, we felt fragmented, at loose ends. The situation was beyond our control. The puzzle pieces, however, we could do something about. By concentrating and focusing, we could make sense out of the jumble before us. We experienced satisfaction and a sense of accomplishment every time we were able to fit one into place.
Unlike our real-life situations, each puzzle had a box lid showing what the final result would look like, and we found comfort in that. In retrospect, I'm glad I didn't have a box lid showing me where my real-life situation was heading; I was hoping for a different outcome. But as I learned to trust God through all of it, I grew stronger day by day, more confident in Him. When the final picture of Alan's life was completed, I knew I could trust God with the next part of my life. He knew when and where each piece would fit.
God promised in Hebrews 13:5 that He would never leave me or forsake me, and He has been true to His Word. He also promised that He would complete the good work He began in me (Philippians 1:6). The picture of my life is coming together as the Holy Spirit puts each piece in place. He knows the picture on the box lid, and that's enough for me.