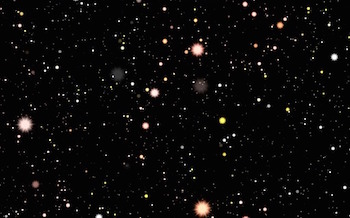 Mother nature is putting on a show! Tonight if the sky is clear, go out during the evening between 8:00 and 10:00 and face south-southwest. You'll see a triangle of three stars. Well, only one of them, the one on the bottom of the triangle, is actually a star. Its name is Antares and it's in the constellation Scorpius.
The reddish-colored one on the top left is the planet Mars. The one on the top right is the planet Saturn. This configuration will change slightly from night to night because planets change their positions in relation to the stars and each other. This is why they're called planets, which means "wanderers." A week or so ago, these three objects formed a perpendicular line, but our sky here in the Chicago area was cloudy, so I missed that. Within the next few nights, watch the crescent moon gradually come into the picture as well.
You may notice that Mars and Saturn don't twinkle the way Antares does. That's because planets don't produce their own light. Like the moon, they reflect light from the sun. Stars are like our sun, big balls of fire, which causes them to twinkle. I have always enjoyed the study of astronomy – not the scientific part so much as just knowing the patterns and watching their movements through the course of the year. The five planets that are visible to the naked eye are fascinating to observe. Once you know they're the ones that don't twinkle, they're easy to spot.
Genesis 1:14 tells us God put the stars in the sky to be a sign for seasons. The movements of the planets are so predictable that scientists can tell us right now where each one can be seen on any future date. This predictability of "sun moon and stars in their courses above"* reminds me of God's faithfulness. The beauty of the heavenly objects speaks of his love for us. Even in the night sky we can discover God's goodness in everyday life.
*Song: "Great Is Thy Faithfulness" by William M. Runyan, verse 3